Sweden, United States, 1971
Directed by Bo Widerberg
With Thommy Berggren (Joe Hill), Kelvin Malave ("The Fox"), Evert Anderson (Blackie), Cathy Evelyn Smith (Cathy)
Two years after "Ådalen 31" director Bo Widerberg keeps surveying and narrating the history of the working class, its plight as well as its fights, but widens his scope as he sails the Atlantic, leaving the Scandinavian fringe of the capitalist world to shoot in its wealthiest and most vibrant nation. But he also narrows his focus somehow, as he delivers a biopic, centering the plot around a single, famous character and not on a whole community as he did not just effectively but graciously too in his 1969 feature.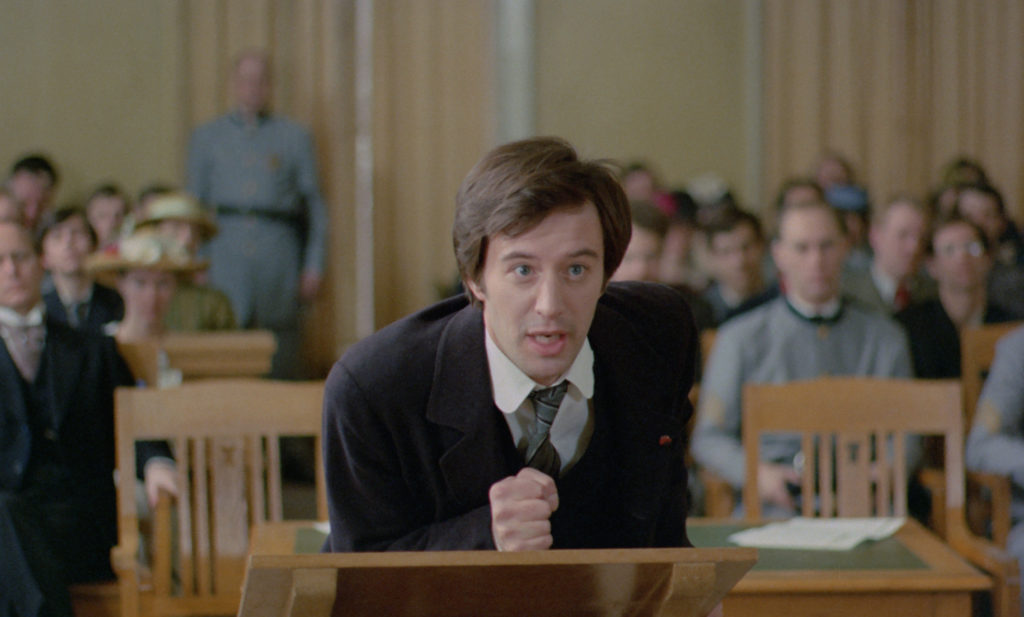 This is not an extended and rigorous biography: Widerberg dispenses with the Swedish origins of his titular character, not even bothering to use flashbacks or lines of dialogues to allude to the past of the celebrated trade unionist born Joel Hägglund in 1879. It is the emigrant experience of Joe Hill which takes the center stage first before giving way to the detailed and lengthy relation of his unfair trial and execution. Since there is a lack of certainty about his many travels across the United States, the film relies clearly on speculations and a modicum of imagination. But on one aspect where there is no doubt, thanks to photographs and other documents, this "Joe Hill" deliberately ignores reality – Widerberg picked a handsome actor, Thommy Berggren (the cast's only professional), even though the real Joe Hill underwent disfiguring operations because of skin and joint tuberculosis. This is a quite crowd-pleasing move for a biopic so unabashedly political and in fact partisan (the director's views and intent are made plain as soon as the film's titles start to roll, with evocative lyrics sung by well-known folk singer and leftist activist Joan Baez).
Joe Hill arrived in New York in 1902 with a brother, who is soon dropped out of the frame. Struggling to fit in and unable to speak English properly, dreaming of a career as music composer, he would be guided in his new life by three different persons over the course of many years. First there is a bright kid, as resourceful and smart as unrepentantly dishonest and mischievous. "The Fox" filches his way through life but is the kind of streetwise and worldly-wise fellow Joe Hill needed to adapt, a striking character injecting zest and humor.
Then Joe Hill decides to reach out for his brother: this is the beginning of long, poorly documented, years of travel, crisscrossing the US, helped at first by another guide, a colorful hobo named Blackie. It is in California, in 1910, that he stumbles on activists from a raucous and ambitious new trade union, the Industrial Workers of the World. Still, he remains a hobo for some time, before choosing to settle down in a farm, eager to work and to court the daughter of the farm owner, Cathy. The romance is short-lived as he feels his calling does not lie in the ordinary family life but in something bigger.
This would be very busy, and risky, years spent working inside the IWW, becoming famous for the songs he composed celebrating the working class. The film has picked up a fairly breezy pace, in sync with the growing influence of Joe Hill, his rising popularity getting fueled by his cleverness, his resilience, his stunning audacity – witness how provocatively he succeeds in getting the scared staff of a posh restaurant unionized, in a brilliant display of narrative ellipsis tinged with deadpan humor.
One night of 1913, in Salt Lake City, he gets badly wounded in a quarrel with the husband of an Italian immigrant he once fall in love with in New York, an incident he would never fully relate out of respect for the lady, an honorable move that would cost him dearly. The same night a grocer and his son are attacked and shot dead by gangsters. The doctor who looked after Joe Hill thinks wrongly the unionist's wounds are linked to the robbery; the police and the authorities relish the opportunity to jail and get rid of Joe Hill.
The film's pace slackens, the scope narrows: it is no longer about the allure and success of a leader inspiring and guiding a growing community of fellow workers, but about the lonely but spirited fight of a defendant who wants to denounce a travesty of justice. A nationwide, fiery campaign to get him pardoned once he is found guilty does take place, with little success, but it is perfunctory treated by the director who would rather linger on the way Joe Hill spends his days in jail, how he muses about his life and his fights as well as the grim fate that sounds so inevitable. The approach is more than sympathetic, it rushes to lionize an uplifting character unfairly sacrificed. The final scene, the gruesome reconstruction of an execution by a firing squad, casts the lead character in an even more heroic light while getting predictably strongly emotional.
The spirit of community comes back, however, to bring the film to its conclusion, with fellow IWW activists mourning him and sending his ashes by mail across the nation and the world: Joe Hill becomes an instant symbol and a rallying figure. This is after all how the fabric of a collective memory is made, and the film has powerfully demonstrated how much Joe Hill can be truly claimed as a genuine inspiration and an effective role model for a working class and a wider society trapped in a vastly unfair system favoring inequity, poverty, and capitalist-sponsored violence (the otherwise tame and precise handling of the camera is at times replaced by a far jerkier visual style, with a hand-held camera roving around characters to take poignant closeups grimly capturing the many, terrible faces of class humiliation, poor stumbling in the streets or the pain suffered by beaten-up activists for instance).