United Kingdom, 2011
Directed by Andrew Haigh
With Tom Cullen (Russel), Chris New (Glen)
Russell leaves a party at his best friend's home to spend the end of a Friday evening in a gay nightclub. The next morning, in his flat, he makes the coffee for the man he has picked up, Glen. They start talking – and will keep talking and walking in their city of Nottingham and having sex till Sunday evening when their relationship reaches a final stage.
"Weekend" unremittingly focuses on this short time span and this particular relationship. It remains, however, open on the wider world: the first images are large views of the city. These cityscape images crop up regularly as the lead characters, together or separately, navigate the streets, while coming to terms with the awkward relationship they are striking out. Inside the frame made up by the streets and buildings the two men are not really looking lost and alienated or that different from the ordinary people around them, they are in fact like them as they struggle to pursue happiness in the modern society.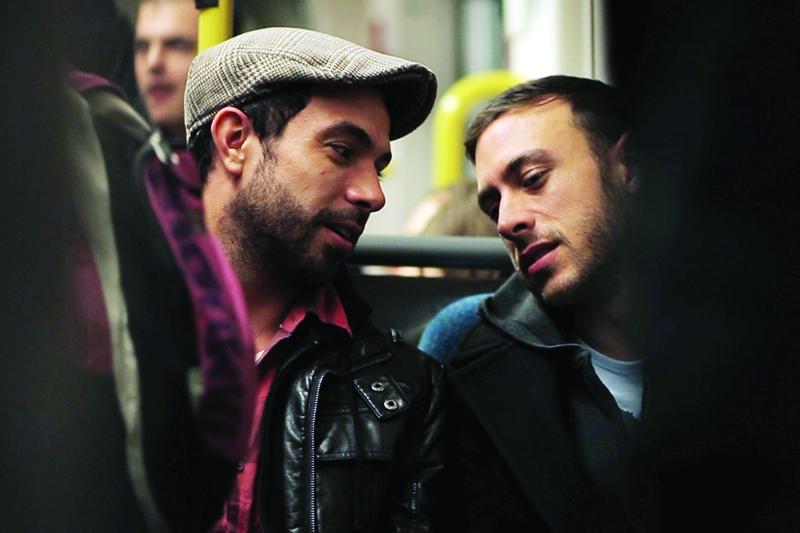 Most of the events take place inside Russell's flat; a quiet, modern home, with an unassuming décor and stuff bought at thrift shops. The fellow is quiet and unassuming indeed. Russell is a lifeguard in the city swimming-pool, a soft-spoken and diffident fellow. He is partial to pot, perhaps too much. The flat is where he is to learn how to deal with Glen, a living contrast to his way of life. Glen spends time out, going out in bars and nightclubs and fairies, keen on moving to meet people, coming with new projects in mind, including leaving England. An art specialist, he is garrulous, enjoys picking up a fight and has a militant take on most topics.
The easy opposition is a starting point to a narrative which slowly moves beyond it. One small gesture after another, both men must acknowledge to themselves that their meeting could be something else than a one night stand. The camera carefully records a whole grammar of expressions that is highly respectful of these diverging characters: Russell's offers a study in gazes and restrained behavior while Glen's is as awkward and embarrassed as a gruff fellow is when reluctantly showing emotions.
Words remain essential to grasp what is at stake. For an art project Glen makes records of gays talking about their sexual life; Russell keeps a diary on the men he meets for sex. Their purposes are different but they end up charting the complexities of the homosexual experience. It is the very ground where they have to define their new relationship. And they give themselves the time to do it.
They spend the Saturday afternoon together and Russell accepts an invitation to a party organized by Glen's friends later. They don't stay in the bar too long and their departure is the beginning of a very long night akin to an emotional odyssey. An endless, convoluted conversation drives them to evoke everything from personal suffering to politically charged quarrels to various memories. And then in a deceptively tranquil but powerful way, their talk articulates before our eyes the complicated nature of a sentimental entanglement as it goes deeper than any of the partners dare to imagine at first.
Sex is the ultimate demonstration of the sentimental equation. The first intercourse, after the nightclub, went unrecorded. The next, on the afternoon, happens with some hesitation and end up a bit abruptly. The final one turns out to be the powerful but provisional conclusion to the night and is shot in a remarkably genuine fashion. As the relationship grows bigger, the full extent of physical desire becomes clearer; after the initial ellipsis comes the complete image of love, and even more moving as it is transient.
Glen chooses not to drop his new job of lecturer in the US. Russell doesn't object. There is no happy ending. The audience may be saddened but in real life failures happen; letting the characters avoiding any commitment is only a matter of coherence and frankness for the movie. Anyway, it has done its job, to survey in a truthful and naturalistic way its particular topic, their emotional odyssey. It has measured the distance between two people looking for love; down this path all facets have been uncovered that stand in the way of full understanding, coming out or not, dealing with infidelity or not, making compromise or not. While giving a magnificent portrait of gay feelings, the movie has a wider resonance for anyone who was ever involved in a nascent relationship.
The sheer talent of the two actors helps the film to feel so genuine in its depictions; they artfully serve the director's work which manages to dilute time and let smart dialogues tell the sentiments and the ideas without ever sounding presumptuous or predictable. A full command of compositions and cinematography create a distinctive, urban, cold environment; inside it, the compelling feelings at play come across as even more overwhelming.