France, 1962
Directed by Jean-Luc Godard
With Anna Karina (Nana Kleinfrankenheim), Sady Rebbot (Raoul), André Labarthe (Paul), Peter Kassovitz (the young man), Brice Parain (the philosopher)
"Nothing in the world can be compared to the human face. It is a land one can never tire of exploring", Carl Theodor Dreyer once said about the importance of the human face in cinema. "Vivre sa vie" seems built and shaped around this artistic principle, this taut and straightforward movie standing as an intense scrutiny of the character's face, which stands as a raison d'être and a thrilling subject matter (as it happens, Nana is shot watching in a movie theater Dreyer's famous 1927 film, "The Passion of Joan of Arc" – does it suggest she could be view as a new heroine for both modern times and new cinema?).
The titles appear over Nana's face as it is shot in three times, first her left profile, then a frontal view and finally the right profile, the first and the last images taken in an awesome play of shadows and lights. Her narrative is conceived as a one-act play divided in twelve scenes, or in the original and precise French word, tableaux – title cards regularly give the numbers of the scenes and a description of the actions to come in a few words. The action takes place in a few streets of Paris over what seems a rather short period of time. Summing up the story is easy.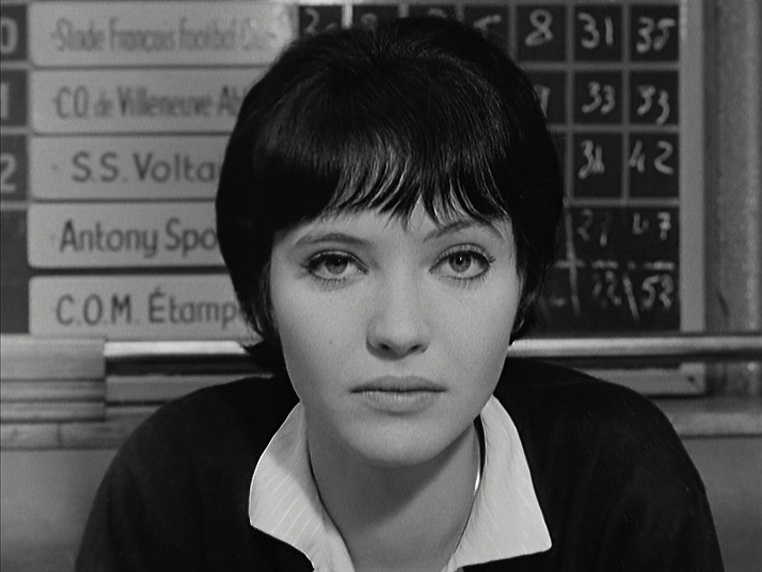 Nana Kleinfrankenheim, a young woman from the East of France, is dissatisfied with her life, including her lover Paul and the job of sales clerk she managed to get at a shop selling discs. She has not enough money to pay her rent. Prevented by her apartment's concierge one afternoon from entering her place, she drifts in the streets, and then accepts to have sex with a stranger to get money. It could have been an accident, but Nana actually chooses to becomes a prostitute. She is noticed by a pimp, Raoul, sticks with him, and thrives in her new business. But she lapses back in her unhappy mood, flirts with a beautiful, uncommunicative, Edgar Poe-reading gangster, and even tries to make sense of life by chatting with a philosopher in a café. But Raoul decides to sell her to a gang; the exchange between a reluctant Nana and the money the thugs do not really want to give goes awry; Nana is shot dead by accident.
Each tableau comprises only a few shots that could be composed in the most simple style, as well as in the most sophisticated imagination. Nana hogs the screen most of the time, the camera tracking the feelings and reactions running through her face; everything does seem to happen over there and to matter to the director. The film captures, intently and intensely, whatever crosses the mind of the young woman as she switches from a dull, predictable and unrewarding life to a more contentious, troublesome and shocking one. It does not pass any judgment; on the contrary, it gives at one point through a dialogue between Nana and Raoul overlapping two scenes a detailed explanation of the rules and realities of prostitution in France in the early 1960s. Of course, the first step was hard to handle, but Nana surprisingly accepts the job's constraints, coping with the clients with a gentle but expert and distant attitudes and enjoying the underworld life she has with Raoul – on-screen, that translates into brief images of experienced gestures edged sometimes with surprise and sometimes with ennui and then an astonishing moment of completely carefree and unbound joy, when she dances around a pool table while Raoul is talking to another gangster.
Her later moves still brings her back to the mindset that first defined her in the bold first scene when she is quarreling with Paul, their tense conversation in a bar about their failure to get along, and her struggle to find a purpose being shot with the camera shooting their backs, with their faces never showing (through a mirror allows to get a distant, blurred profile of Nana). Even as a successful streetwalker, Nana is still looking for something else but also eager to understand how to run a life – the meaning of the film's title. The chat with the philosopher is the climax of her narrative as an inquisitive, curious, astute girl questioning life as it stands around her in France in the early 1960s. She is truly interested in the topics she broached and worried not to get the answer – at one point during the conversation, she deliberately looks straight into the camera, fully aware of what is going on and seemingly sharing with it her worry, an astonishing and moving move, the image competing with the language to grasp the truth.
The final tragedy comes as a surprise and a shock, though the film has always displayed a melancholy touch, in particular through the ritornello composed by Michel Legrand and the very name of Nana, evoking the brilliant but doomed courtesan of the novel by Emile Zola. Tellingly, the last image of Nana pictures her at a distance, lying on the asphalt, her face barely visible and turned slightly on a side and upwards. She would never look at the world with her candid, gorgeous eyes and we would never be able to contemplate her – for the second time in his then brief career, two years after "A bout de souffle – Breathless" and the death of Michel Poiccard, Jean-Luc Godard kills the lead character of his film, getting rid of a colorful, endearing personality whose antics bring to the audience a fresh view on the world and set on a new path the storytelling rules of cinema. Fitting with the noir genre these films, and others from the Nouvelle Vague movement, embrace, both these dreadful and abrupt ends still stun – if only in Nana's case, because the film sounds all along like a paean to the beauty of the performer, magnetic and wonderful Anna Karina, then the partner of Godard.
This horrible and heartbreaking development turns her character into a new, innocent victim of male greed and unfairness, suggesting there are quests that should not be attempted, and freedoms of mind that come with a heavy price. What lingers long after the word end is that extraordinary vision of a woman grappling with life, fully expressing her sentiments and ideas and striving for being a woman in full.