Spain, 1999
Directed by Pedro Almodóvar
With Cecilia Roth (Manuela), Marisa Paredes (Huma Rojo), Candela Peña (Nina), Antonia San Juan (Agrado), Penélope Cruz (Rosa), Rosa Maria Sardà (Rosa's mother), Toni Cantó (Lola)
After losing her beloved son Esteban in a car accident on the evening of his birthday, as he was turning 17 only, Manuela gives up her job as a hospital nurse and runs away from Madrid to go to Barcelona, where she reckons to meet with Esteban's father. She never talked about him to Esteban and still hates him seventeen years after they angrily fell out. She fails to find him but gets reunited with an old friend of both, Agrado, who tells her that Lola has vanished a few time ago.
Yes, Lola – for Manuela's former partner has become a transgender hustler, which is also the case of Agrado. Maybe unsettled by these twists, the audience must face another surprising turn of events: Agrado suddenly decides to give up street-walking and Manuela readily accepts to support her. They meet a nun working to help prostitutes and the poor, Rosa. Both the very young nun who wants to help people trapped by the civil war in El Salvador and 38-year old Manuela get on well but, yet again, their friendship leads to another amazing development: Rosa turns out to be pregnant and later to be HIV-positive; she confesses that she faulted with none other than Lola. So Manuela must look after a young woman who cannot get along with her own mother, is set to be a mother on her own in contradiction with her own life goals and could die soon.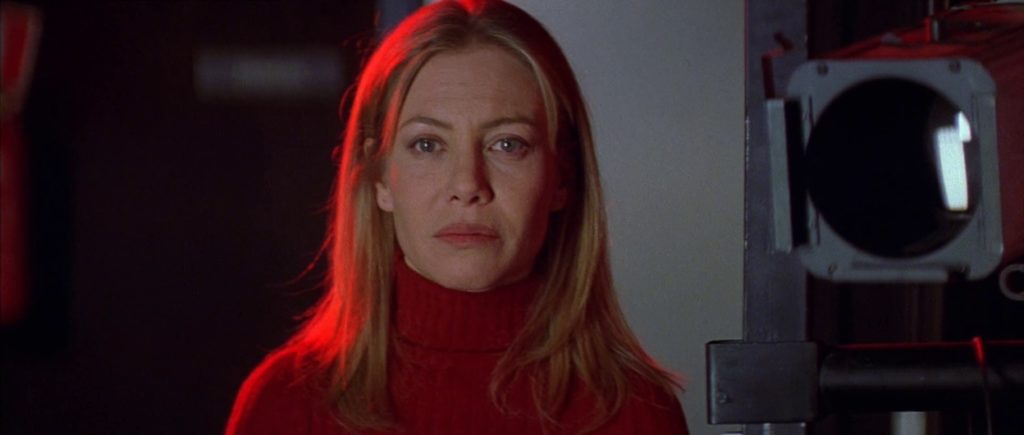 But Manuela has also chosen to take care of another person. She is a leading thespian, Huma Rojo, and is playing the part of Blanche Dubois in "A Streetcar Named Desire". Huma is weak and insecure, in love with another, younger actress, Nina, who also stars in the play. There is a reason for Manuela to get involved in their life: Esteban was run over by a car as he was chasing the taxi carrying the actresses to get an autograph. That sounds a rather brutal and bizarre way to mourn but Manuela has already acted as shockingly earlier in the film, travelling to observe the man who received Esteban's heart after a graft operation (the event is made ever more tragic by the fact that she was specialized in organ transplant operations). Manuela seduces Huma and both build a rather good relationship that is compounded by the antics of Nina who is addicted to cocaine.
At one point in the narrative, Manuela, Rosa, Huma and Agrado are sitting in Manuela's Barcelona apartment, sipping champagne, nibbling snacks, chatting and laughing. It proves a turning point in their complicated and outrageous story, a moment when cards are reshuffled, with Agrado meeting Huma and set to replace Manuela as Huma's personal assistant while Manuela becomes a second mother for Rosa, new twists leading the film to a second, more poignant part. But what strikes, entertains and delights is the warmth, the camaraderie and the joy that their frank, ribald and insouciant chat reveals. The scene asserts the position of Manuela as a center of an improbable network she has fostered (she has spent most of her narrative time linking people, moving around ceaselessly; she is actually always on the move, pacing corridors and streets, sitting in cars and trains). This proves to be her best medicine to cope with life after Esteban's death; at the same time, in a perfectly melodramatic change, she becomes again a nurse whose job is no longer to transplant organs but to treat heartbreaks.
But there is more: All these persons come from very different walks of life and should not have met and all these persons embody starkly contrasted images of the woman, and even have a life that encapsulates opposite meanings of womanhood – the nun becoming mother and the woman born a man. They are a sorority born out of personal troubles and awkward relations to males; they are also like a multifaceted female character playing all the parts that melodrama as well as life demand.
This situation asserts female identity as a definitely fluid and non-normative element; it is a state of mind shaped by sentiments and experience, beyond any nominal category. That runs counter to social order, which is blissfully distorted: the father is a prostitute named Lola; the best mother for Rosa is an unknown quantity rather than her biological and bourgeois mother; Rosa herself looks like a fallen angel but her lapse is actually rewarded by a miracle as the human immunodeficiency virus stops replicating in her son's body when he is 2 (a wonderful development that could make Catholics and doctors wince); and, significantly, the story's bad girl, reckless and senseless Nina, ends up getting married in a quaint village, which may appeal to conservatives but is clearly cast as a silly act.
These unorthodox tales are bolstered by a wider context clearly based on gay culture, from quotes of Truman Capote to a Federico Garcia Lorca play, from Tennessee Williams' landmark play (and of course a key film by Elia Kazan) which takes center stage in the life of Manuela, to the Joseph Mankiewicz' film "All About Eve" (1950). But the text screened at the end insists on the importance of the motherly figure: Pedro Almodóvar dedicates his story to the actresses who impressed him, to all kind of women and to his mother. It should be noted the film is shot as the director mourns this mother, a beloved character who had cameo roles in his features. Manuela is like Pedro: she must mourn a cherished relative. But her creator makes her mourning the most outlandish, complicated and flabbergasting that could be contrived; it allows her to widen her experience as a woman and a mother and stands as an extravaganza of a tribute to female instincts and intelligence.
"Todo sobre mi madre – All About My Mother" is a fresh, daring, demonstration of the untrammeled and unapologetic approach of Almodóvar to melodrama; he quietly accumulates implausible situations and outrageous characters with seemingly no end to his emotional zeal; but the outcome does hold together. Sincerity of the characters and provocative gender statement help the film to feel appealing and riveting; but the tour de force comes from the dialogues who can be funny, even hilarious, without undercutting the other elements. They just make the audience closer to these women, aiding and abetting their shenanigans and tricks to pursue happiness – even as death lurks (and does claim no less that three characters: Esteban, Rosa and Lola).