United Kingdom, 1982
Directed by Peter Greenaway
With Anthony Higgins (Neville), Janet Suzman (Victoria Herbert), Anne-Louise Lambert (Mrs. Talmann), Hugh Fraser (Mr. Talmann), Neil Cunningham (Thomas Noyes)
With the titles cleverly interspersed between the shots, introducing characters and actors, a collection of close-ups first uncomfortably draw attention to the make-ups, wigs, and grimaces of some aristocrats of the 17th century England and to the ravenous appetite for food of another man who looks he does not belong to the company at all. They give way to a growing number of medium shots emphasizing the coldness and foolishness of the women and the stilted, tense, definitively contrived and hypocritical relations between those individuals, but in compositions amazingly artfully composed, vaguely reminiscent of Dutch paintings, and indeed looking like tableaux vivants more than the usual cinematic images.
What the characters lack in vividness and spontaneity is partially made up by words and wit: they talk a lot, trading gossips and expressing acerbic judgments, with smart repartee. But even these words lack natural: refined flourishes of language and clever stylistic effects are as important as what is said and how it affects people. This is a small, rarefied world unrelated to ordinary life, an artificiality captured with a devastating sense of grotesque, made up of social postures which are as elegantly highlighted as clearly mocked.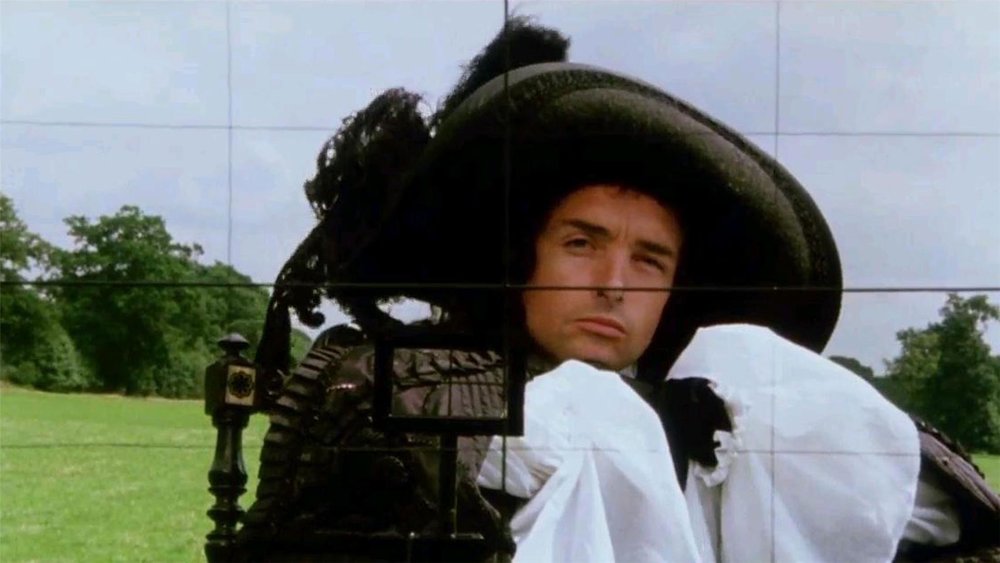 From this idle gathering, it looks as nothing could be expected but a conversation, tentatively started by an embarrassed lady, soon becomes the main point of this lavish if static depiction of the party. It puts back front and center the hungry and witty man who was first shot and looked so unpleasant and so different: Mr. Neville is a commoner made famous by his skills as draughtsman. He specializes in drawing gardens and buildings in black, gray, and white, and his talent is eagerly sought after. Indeed, the wife of the party's host, Victoria Herbert, would very much like that Neville draws views of her husband's estate, even though Mr. Herbert may not like it so much. But since he must be away for twelve days, it should be possible to hire the artist during that time. Neville first refuses but as Victoria Hebert and her daughter, Mrs. Talmann, keep insisting he assents and a contract is right away written by the man in charge of managing Mr. Hebert's estate, Thomas Noyes, and signed up by Mrs. Herbert and Neville, who secures exorbitant advantages.
The whole story of Neville would be just like that: a stately and orderly image of the world carefully crafted by conventions that are not to be challenged but from where would spring a development at first innocuous and barely threatening the composition but then taking a life on its own, becoming a boundless energy disrupting slowly but inevitably what has been ordained – and destroying the one who did ordain.
It is with the stunning and brutal ending, after the plot was fully developed and the various puzzle bits fitted together that the conversation which was so timidly started and so painfully concluded in the beginning can appear as the canny first stage of the awesome and perverted stratagem Victoria Herbert and Mrs. Talmann have imagined to get a solution to problems raised by their respective husbands and to keep Mr. Herbert's fortune. A simple query drowned in the witticism and the futility of a social party leads to an elaborate manipulation, the triumph of cynicism and money power, and a personal tragedy.
Words first, and next images: as days go by and as he works hard, Neville draws what seems perfect images reflecting what he sees, but only after he decided what he wanted to see. The conceited and brash young man proves to be a control freak and a social bully expressing more and more demands. Each drawing is supposed to be made at a very specific time, with such and such detail allowed to stand in the picture, or not at all, and without ever a human being crossing the location – and sometimes not even a single animal. His vision, as noted by Mrs. Talmann, seems ill at ease with life and accident. His work methods, as bitterly remarked by Mr. Talmann, her German-born husband, are punishing and humbling, unseemly and unfair to others. His greed is shocking: not only he gobbles anything but he sees to it to get the most disturbing part of the contract strictly honored, even as it clearly humiliates Victoria Herbert – to get the privilege of sleeping with an aristocrat, nearly raping her, is clearly a reward he relishes and amuses him to the utmost.
Trouble is, it gets harder and harder to get that perfect image: as he tries to polish a drawing, he realizes something has been planted in the setting, be it a ladder or a coat. He keeps drawing what he sees, including that odd object, but wonders what is going on. Mrs. Talmann would provide an answer in a weird and worrying conversation that would be the turning point of the draughtsman's sojourn among the wealthiest: since many of these objects belong to her father, who is not returning from his trip in a bizarre twist, perhaps they are clues to his fate, which then seems awful – perhaps he has been assassinated?
Neville cannot believe it but the conversation leads boldly to another contract between him and the family: this time it is the daughter who sets the conditions in order to provide him protection. So the draughtsman can make love to two women in the same afternoon while making his drawings and wishing for the best.
But when the corpse of Mr. Hebert is found on the estate, the images he drew take a life of their own: there are deemed to be embarrassingly allegorical, pointing to scandalous facts by people with their own ambitions and interests in mind, starting with Thomas Noyes – the draughtsman is unconcerned, having moved to another place for another work. These spurious interpretations lead to quarrels, plots, and the trading of hefty sums. Yet this is not the end of the story for Neville.
He foolishly comes back to visit Victoria Hebert – there is something brazen but incredibly stupid to come entirely clothed in white in a house still mourning a man, with people and their visitors wrapped in black. He as foolishly hopes he can have more pleasure with the widow, who gives him the cold shoulder at first – but then, unexpectedly, grants his wishes. But it is not for his qualities: she coldly but still with wit, seizes the occasion to humble him, to tell him the truth about what his sojourn was really about, and then gets him beaten to death. After the drawings, it is the draughtsman who is doomed to vanish, preventing the outside world to ever gather the scheme that changed the fate of Mr. Herbert's estate and relatives.
"The Draughtsman's Contract" is a tale of vanity getting shattered. As arrogant and mean as the toffs he works for, Neville is made overconfident and overweening by his skills and his success as an artist keen on conveying his own, orderly, rigid, safe view of life, mirroring in a way the elite's aspirations to a social order that must be strictly organized and preserved. He is unashamedly pursuing his pleasure, with lust a sordid and overriding obsession. But it is his sexual urge as well as the cleverness he thinks he has – a point the perceptive and ruthless Mrs. Talmann would pointedly disputes – that drives him into a trap far too clever for him.
The character is not nice and not easy to relate to. His fall is brutal and merciless, effectively shocking the audience, but it is the political and social context that makes it so disgusting and turns the film into a more interesting narrative than the obvious commentary on artistic creation and the significance of images that the playful, often ingenious, constant to the point of getting boringly repetitive, the film is, through the depiction of the obsessive work of the titular draughtsman and the mishaps he faces, putting frames within frames (starting with that funny optical instrument using grille-like cross hairs to draw better proportions and perspectives), juggling with images every time a bit more altered by reality or drawing or talk.
Set just six years after the Glorious Revolution, the plot emphasizes the gap between a political elite who is not entirely from English origins and the rest of a kingdom still reeling from the turmoil of the political and religious crises of the 17th century. Specific lines imply that Neville is not just a commoner hobnobbing with toffs, but maybe a stranger (Scot or Irishman he would never tell), and probably not an Anglican, stoking the tension his presence causes, which is not just about his artistic demands. The elite trying to benefit from the new dynasty is painted as feeling as entitled, if not more, to privileges than the previous ones and barely put up with the rest of the society they easily denigrate (watch the debate about the very existence of an English art) – Mr. Talmann is a good example. But particular cases like his can bring their own troubles.
And there is also the case of women, clearly viewed simply as mothers and adornments, trying to secure their share of wealth and influence. The tragedy of Neville is that he walked right into a nexus of ambitions and power he could not have handled. The ironic part of this tragedy is that the sex-obsessed seducer ends up being used merely as a breeder by Mrs. Talmann and a cover by Mrs. Herbert. The chilling aspect is that the grotesque figures of the beginning would be the cold-blooded executioners of the finale: after all, they are not that funny, but the vicious face of a social order crushing anyone, and every scruples, to keep up the appearances, to grab more money, and to save the order – an order which in retrospect can be disturbed only to making it stronger, an image altered just to get corrected with even more confidence and pride. And that is what makes the film really clever, and a great exercise in black humor.