Spain, France, 1991
Directed by Pedro Almodóvar
With Victoria Abril (Rebeca Giner), Marisa Paredes (Becky del Páramo), Féodor Atkine (Manuel Giner), Miguel Bosé (Letal/Judge Domínguez/Hugo), Cristina Marcos (Paula)
A couple of flashbacks, some tense scenes, filled with bumbling gestures, slips of the tongue, sharp words, and a stunning sex performance present in a fast-paced, jerky, blunt manner the elements of the drama. The film revolves around the barely veiled conflict between a young woman, Rebeca Giner, who has long loved and revered her mother, going as far as contributing to the car accident that killed her stepfather, but who has been somehow neglected by her. And the mother, Becky del Páramo, who has been away from Spain for some fifteen years, pursuing in Latin America a great career of actress and singer, has never tried to get along with her daughter, to stay in touch even, and cannot accept her marriage.
The problem with this marriage, it turns out, and the nervous daughter is fully aware of it, keen to spy on her relatives to check how they cope with it, is that her husband used to be her flamboyant mother's lover. And the situation threatens to become even more complicated since middle-aged, crotchety Manuel Giner is ready to bust up his relationship with Rebeca, but she staunchly refuses. And there are other layers to the problem: Manuel Giner runs a Madrid television network who employs Rebeca as a late afternoon news anchorwoman, while Becky del Páramo makes it plain she is going to stay in Madrid for years to come.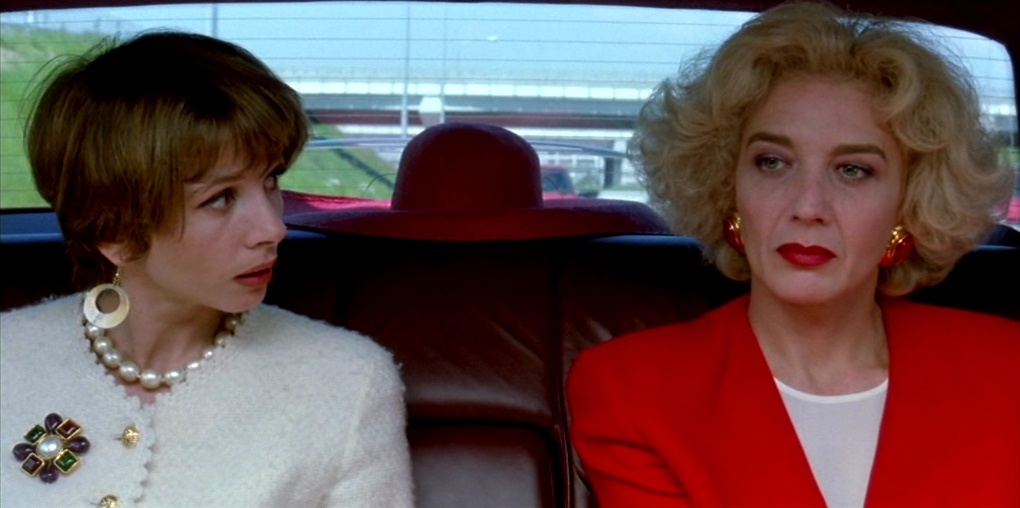 A shot on a sprinkler watering an immaculate lawn, a shot intertitle saying "One month later", and the film tips into an even more tragic dimension: the psychological drama becomes a crime story, after Manuel Giner is found dead with two shot wounds.
A distinguished, stern, albeit mysterious judge takes now the center stage. Judge Domínguez reckons that either the mother or the daughter should be the murderer but moves cautiously. However, he is rushed into action when Rebeca Giner claims she killed her husband while reporting on his funeral during her news bulletin. Rebeca is sent to jail and Becky del Páramo gets despaired. But the most remarkable development is how the judge handles the case in a very personal, strangely compassionate manner, getting very close to the mother and the daughter, clearly hoping to spare Rebeca the worst. And the crisis slowly alters the relationship between mother and daughter, first leading to an outburst of rage and then to more attention and a real entente. Eventually, they become reconciled, and it is a relieved, happy, and also free young woman who witnesses the death of her mother.
The familial melodrama readily acknowledges it is indebted to a great name in cinema history: when Rebeca Giner strives to depict to Becky del Páramo what she has experienced, how she has long felt, why she became a murderer, she refers to "Höstsonaten – Autumn Sonata", the 1978 feature of Ingmar Bergman – actually, she makes clear they play more or less the same parts as the two lead actresses of the Swedish film, which her mother does not really accept, to say the least. Pedro Almodóvar's own film is not so much paying a tribute than using this old film, arguably recycling its plot, to assert his vision, extends his art, and tweak narrative rules and defy expectations.
So the incredible dialogue turning Rebeca's memory of a Bergman film into a genuine, long-suppressed confession takes place in a courtroom, but an empty one, where the meeting with her mother has been arranged by the judge after he signed a probation order benefiting Rebeca. Truth comes out of the place where judgments are passed, as any fan of crime and trial movies may reckon, but it is not because of the workings of law (there would be no trial, indeed). The rules set by the society prove pointless: the law just gives Rebeca the opportunity to spell out what has hurt her, driving her to commit shocking crimes. Crime in her case is the chance to make her sentiments clear to the one for whom it should count. This may be why she took the astonishing path of making her guilty confession live on television, getting rid of the professed neutrality and objectivity of the journalistic ethos to express her most personal feelings and scandalous actions – this is a remarkable case where the concept of television reality is quickly embraced to get turned upside down, dashing the dubious entertainment to grasp an inconvenient truth, and where the idea of reporting reality collides with the overriding need to air one's sensibility; then again, truth has come out, but it is not what could have been expected, or hoped if you think improbable Rebeca could be a murderer – although she visually comes across at the beginning as just another sophisticated and beautiful but a bit aloof and fragile heroine of an Alfred Hitchcock flick.
The melodrama is the story of a reconciliation made possible by the sincerity of sentiments, but which can only be achieved through violence, which is disturbing enough, and made effective by a web of deceptions and lies even as truth is affirmed. But if Rebeca's character enjoys the expected happy ending, it is because mother and daughter engage in a deception that does not simply ignore but willfully thwarts the human justice – Becky del Páramo, now doomed to die soon because of an angina, insists on being accused of the murder to spare her daughter jail, a move that deeply embarrasses the priest called to give her the last rites. But to the singer, it is the best way to atone for her past neglect of her daughter and her inability to understand her – personal ethics are more important than the society's tenets.
But the most important element allowing this reconciliation, the acceptation of truth, is the most incredible character of "Tacones lejanos – High Heels": the judge, who turns out to be many characters at the same time, a man whose apparent seriousness, competence, chastity hide the cross-dressing singer who is the best friend of Rebeca, and the man so keen to be her lover despite her inability to drop her husband, Letal, as well as the drug addict loved by a case worker, Paula, who looks after Rebeca, and who fears her dear Hugo is dead. But if Hugo is dead for the moment, and Letal performs less, Domínguez is alive and kicking. Deception is his way of life, allowing him to meet many demands from his personal life and his job in a satisfying way, to be a regular guy and a devoted son by day while playing with genre and emotions by night and letting his artistic aspiration thrive. Hard to imagine more extraordinary, barely plausible character, a case of screenwriter's imagination carried away too far. Yet it somehow works – for this deception makes it possible for the faithful lover to help the woman he desires, for it is a definitely authentic and powerful drive leading to Rebeca's final happiness – to be free, reconciled with her mother, expecting a child, ready to make a fresh start.
What a set of characters, and what a plot. This is not Bergman, of course, or Hitchcock, or anyone else: this is an exuberant, imaginative, provocative, playful, emotional film by Almodóvar, a true Pedro Pedro Almodóvar melodrama. The gaudy palette of colors, the jarring interiors, the stupendous elegance of clothes, jewels, and haircuts are the vibrant frame from where feelings explode. The ordinary rules cinema tries to reflect are not enough to make happiness possible, to get understood and loved, to let the streams of life and feelings run free. You need to shuffle the deck, to sort the cards in a new way, to play them differently: you twist, you tweak, you distort, you dare shooting the same plot as it has never been. And you can win the audience over, because an artistic form has been carefully crafted that deeply surprises and deeply moves, thanks to the truthfulness the actresses and actors were invited to find out in their characters' complexities, thanks to the bold mix of sentimentality and comedy, as well as sheer fantasy (the film offers incredible set pieces, including a musical number in a jail). Melodrama for Almodóvar is the same thing as it was for many a predecessor since David Wark Griffith, a way to view the world.