United Kingdom, 1993
Directed by Ken Loach
With Bruce Jones (Bob), Julie Brown (Anne), Ricky Tomlinson (Tommy), Gemma Phoenix (Coleen), Tom Hickey (Father Brady)
Two men shout and run through a vast and beautiful rural landscape. They try to catch a sheep, a task they eventually, very clumsily, manage to carry out. The rest of their enterprise, killing it and selling the meat, proves to be as exhausting, frustrating, and laughable as their hunt. Behind the farce opening the film lies a sad ordinary fact: Bob and Tommy are middle-aged job seekers who are desperate for a quid.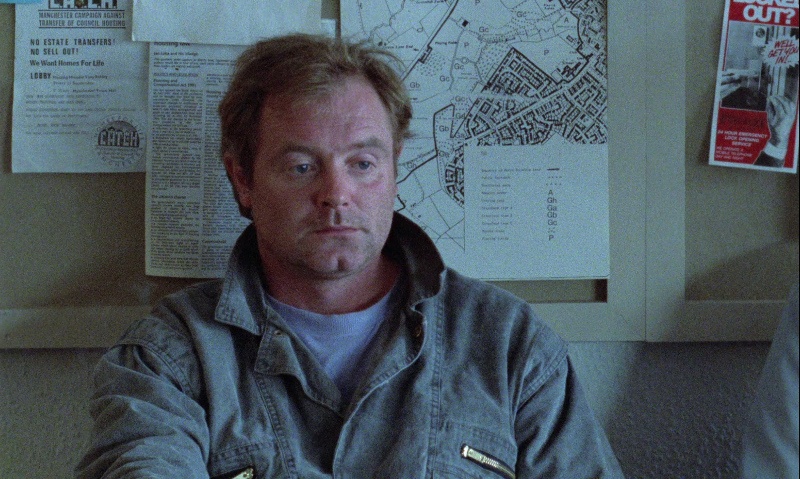 Bob and Tommy live in the Greater Manchester area and the movie relates their tough and alienating life in a compassionate manner. Always short of money they try various tricks to keep their heads above the water; that would include the inevitable search for the best tips in horse betting and, amazingly enough, dealing in stolen grass (mischievously taken out of the park decorating the local Conservative headquarters). But poverty is hard to escape in such a depressed area where there are just too many social problems, including drug trafficking. It takes a toll on the lead characters and the other residents. One of the most moving images follows up a conversation between Tommy, his wife and his daughter, who earns her life well enough and hands her father a few pounds to have a good time in the pub; Tommy reluctantly accepts; when the women leave, he collapses and cries, and the camera quietly captures this in a middle-long shot – no lachrymose, lazy close-up here but still a raw vision of a dignity under pressure which cannot leave the audience unconcerned.
Director Ken Loach once again wants to bear witness and give an honest, straightforward, and thoughtful depiction of the British working class under a Conservative government eager to support businesses as capitalism changes radically. His tools are tried and tested: actors who are generally not professional and a no-frills, practical mise en scène that illustrates a solid if unsophisticated screenplay, complete with dialogues with a genuine ring. In the case of "Raining Stones", the effort helps portraying a tortured man who will not give up an inch in his fight for pride, for his family's happiness, and for his faith.
Bob is keen on giving his daughter Coleen a nice dress for her first communion. His wife, Anne, and his priest, Father Brady, advise him against spending money on such a dress. But he is stubborn and tries the tricks described above and some more to pay for what he has deemed necessary, no matter what. That leads to funny episodes, enjoyable elements of the film's wider comic dimension that the first images so nicely signaled. But his story remarkably drifts toward tragedy when it turns out Bob has borrowed money and his debts have been bought back by a notorious loan shark. Violence bursts on the stage, upsetting the characters and shocking the audience. It ends up with the death of the swindler in an accident after both men have quarreled, putting Bob's future in danger.
Yet the movie, though standing miles away from Hollywood standards, gets a happy ending, with a whiff of a miracle. It may suit Bob's convictions too well, but the film has made plain how serious and honest he is and how he has thoroughly striven to reach his goal. Father Brady acknowledges as much when he listens to his confessions after the car crash. In his own way Bob deserves a better outcome than any punishment. Some would point that his pride is sinful and frivolous – but his point, and the film's, is that when everything is lacking in a society unable to give prospects to its youth, the dignity a man can find in supporting his family and his ideas is the ultimate element he cannot let be ruthlessly challenged. And this is told in a clear, convincing, and truly empathetic way.