France, 1962
Directed by Jean-Pierre Melville
With Serge Reggiani (Maurice Faugel), René Lefèvre (Gilbert Varnove), Jean-Paul Belmondo (Silien), Philippe March (Jean), Michel Piccoli (Nuttheccio), Fabienne Dali (Fabienne), Jean Desailly (Chief Police Detective Clain)
The plot centers first on Maurice Faugel, a frail, wearied, skinny gangster just out from jail. He kills out of the blue a stolen goods receiver, Gilbert Varnove, who seemed to be a good friend, then flees with banknotes and jewels he later hides away. Back at his home, he talks with two fellow criminals, Silien and Jean, about his next job, robbing a rich man's house. But this burglary gets awry as the police unexpectedly turn in; in a gunfight a police detective is shot down; but Faugel is mysteriously taken away as he lies unconscious. When he comes around, he decides to hunt for Silien, reckoning he is the only one who must have ratted on him. He does not go far as Chief Police Detective Clain nabs him.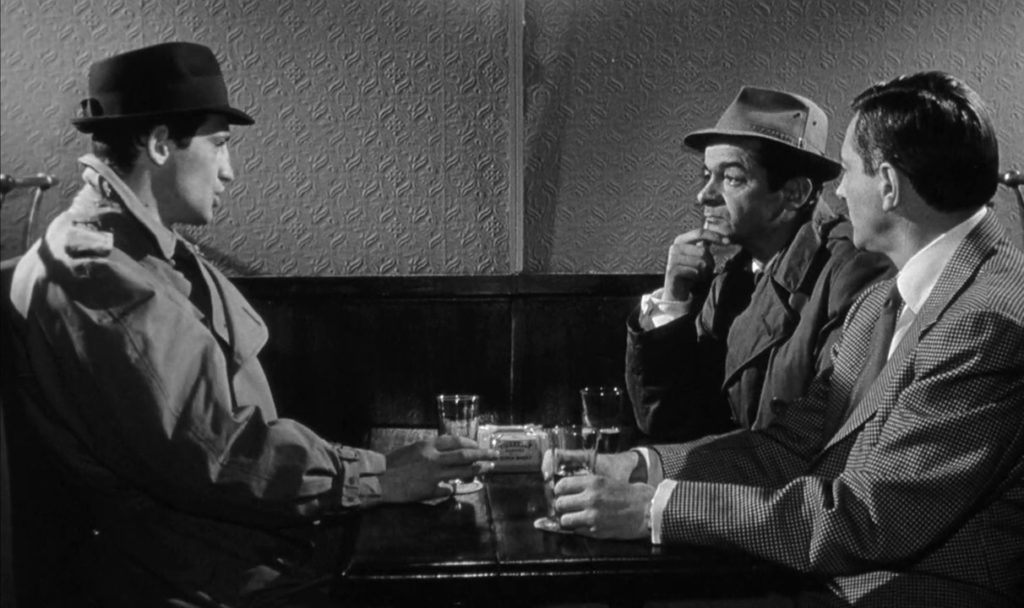 But even before Faugel is arrested in a bar, the film has focused on the cryptic, complicated, creepy actions of Silien, a gangster cutting a dashing figure but clearly distrusted by others, except Faugel – that is, till the police disrupted the burglary. The editing of various scenes, especially his odd behaviors, suggests the suspicion of Varnove and later Faugel is justified: he may be working for the police and has surely betray his pal Faugel; however, his talk with Clain has a cat-and-mouse quality that unsettles the previous judgment; Silien's relationships with the detective killed in action seemed to be unique and do not extend to a more extensive cooperation with the police. Still, he helps Clain to arrest Faugel.
Then the plot pivots: Silien tries to seduce again Fabienne, a wary and unhappy woman who is the girl of Nuttheccio, a nightclub owner and underworld boss who stole the jewels Varnove was examining when Faugel paid a visit to him. It appears that Silien is carrying out a complicated plot to make Nuttheccio look like Varnove's assassin – and it works, as Faugel is freed.
The story has so far seemed a confused puzzle throwing doubts about Silien's real motives and feelings. But a chat between Silien, Jean and Faugel in a bar give all the explanations. The scene is the typical, expected conversation that, in most detective stories, gives all the clues and quietly reconstruct the plot the audience has been watching.; however, the riveting twist is that it yields a clear, convincing rationale for Silien's behaviors, casting him as a smart and cunning operator dedicated to help his friends. Money was irrelevant to his moves, spurred by his desire to spare Faugel the worst and punish those who put Faugel's life in danger. Suddenly, the contemptible and dangerous guy turns out to be a chivalrous and dependable friend.
Shadow and light lose their clear-cut meaning. The first image of Silien is an elaborate work of lighting that keeps his face in the dark because of his hat's shadow and his position in a corridor. Till the end, even during that talk in a bar, as the hat's shadow creeps over the smiling face, Silien would belong to a shady world, in every meaning of the world, fueling the audience's doubts. It happens he is just an artist in manipulating people and facts to achieve his sentimental goal (there are actually two of them: giving Faugel a fresh start and rekindling Fabienne's passion). He is highly focused and chillingly relentless; his actions often unfold in silence, with the camera's eyes precisely, mechanically trained on him. At the opposite, Faugel is first shot in a frontal manner, by daylight; he would often stand under bright lights of unfortunate events, a clumsy and talkative (even too talkative when he drinks, it seems) but straightforward guy trapped by lack of luck, betrayal and impulsive moves. Their bond is, in this light, quite remarkable, the alliance between a man merging with the rules of survival and dirty tricks of the underworld and another that can easily fails them, to his own risk.
"Le doulos" is an old slang word for hat; in the underworld, it is synonymous with informer. The way the film highlights Silien's hat plays with this meaning, explained in a short text at the end of the credits; but in another twist, it becomes the poignant symbol of the tragic nature of this narrative, as it rolls down a floor where three corpses lie. For a contract killer had been hired by Faugel, and despite his belated scramble to prevent the execution, which, once again, turns awry, Silien dies.
This epilogue casts their story as a classical tragedy, based on the difficulties of trusting and helping, a narrative underpinned by a cruel asymmetry of knowledge that sows doubts in one friend while the other engages in highly convoluted maneuvers to prove his own friendship. What has been the core of an intriguing suspense and a nice show of cleverness leads also to an absurd, savage end. Taking place on a rainy, grey late afternoon, in the barely lit drawing-room of a country house, the event suddenly gives dark and shadow more usual connotations: the underworld remains a dangerous, violent and hopeless part of the life that destroys everything, including friendships. The tragic, bloody fate of the gangsters cannot be escaped – which was another goal of Silien, who was reckoning to take his retirement from shady business in that house, with a few horses and beloved Fabienne. But it is always too late for dreams.