Italy, Germany, France, 1948
Directed by Roberto Rossellini
With Edmund Moeschke (Edmund Köhler), Ernst Pittschau (the father), Erich Gühne (the former teacher), Hans Sangen (Mr. Rademaker)
Unlike the two other movies of director Roberto Rossellini's so-called "War Trilogy", "Germania anno zero – Germany Year Zero" does not have wartime events as a background. The plot takes place in the wake of the Nazi defeat, well after the guns stopped shooting, amid the ruins shells and bombs left. The first and right away unforgettable pictures are taken from a car roaming among streets and are tantamount to a disturbing and stunning tour of devastated buildings and endless rubble where people are barely in sight. Staying definitely out of the frame all over the film are soldiers; the victors play no role, unlike the Americans in "Paisà" (1946), and neither do the losers (there are no Wehrmacht rearguard or occupiers in a departure from both "Paisà" and "Roma, città aperta" [1946]). More clearly than the two other films, the story here, narrated in just 78 minutes, deals with the predicament of the civilian population and the struggle to survive among ruins and social disorder.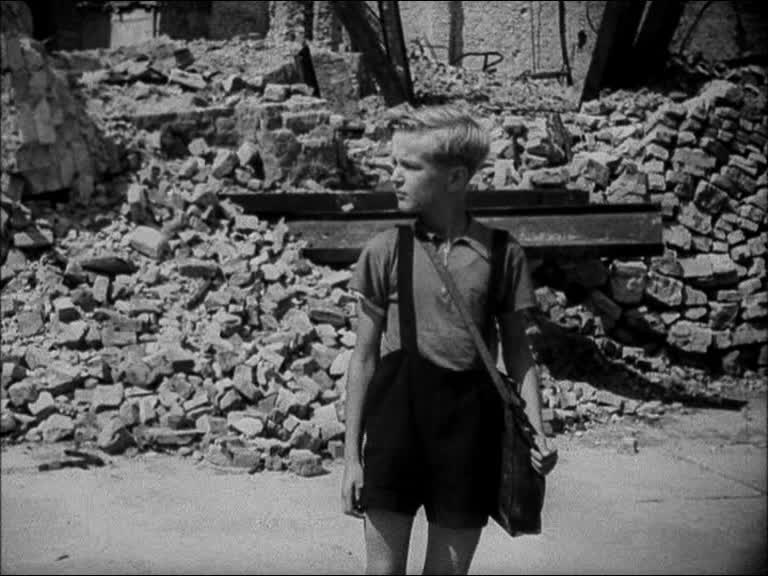 But it takes an element from the two previous features to another scale: kids are no longer the silent witnesses of a tragedy or of poverty – one of them, a gentle blond boy, is the lead character and the film carefully records his excruciating experience. In half-destroyed Berlin his family is forced to share whatever housing can still be used with others and are dependent on the whims of owners suddenly made all-powerful by the sorry context. In the case of the Köhler family they must face the contempt of Mr. Rademaker who resents the help he gives for at least three reasons: Mr. Köhler is in poor health, unable to leave his bed and earn his life; his elder son is a former Nazi soldier who has never reported to the Allied forces occupying the country; and his grown-up daughter enjoys spending evenings with foreigners, to get a cigarette or more. There are people who do not know how to get by in a decent way. Mr. Köhler's younger son, Edmund, our lead character who is just 12, does whatever he can to alleviate their suffering.
He must resort, like most of the population, to barter and traffic, and the film makes plain the basic unfairness of such tools of survival. Edmund is noticed at one point by a former teacher who intends to help him but his motives are vile (his attitude suggests he could be a pedophile) and his actions only take the boy further down hardship and immorality, as he ends up tagging along a posse of bad boys, used to steal, smoke, and drink. The most devastating blow the teacher deals to Edmund is to teach him lessons on the need for the fittest to stay alive and for the weakest to be eliminated.
Granted, the man could not have imagined what Edmund would do with these toxic, obviously Nazi-shaped, ideas – and neither could the boy for some time. However, the sheer inability of his milieu to change exerts a terrible pressure on him; the father cannot recover from his ailments, the brother cannot accept to tolerate the occupiers (and to get this damn food assistance card), the sister cannot do more than she is already up to (she would certainly not reckon to live thanks to the kindness of richer richer citizens or foreigners so easy to seduce when you are a pretty woman, as it is the case of one of her best friends). Hopelessness drives Edmund to poison his dad. This dreadful act is duly condemned by the teacher, who gets rid of the boy and so throws him back to his despair. He wanders aimlessly amid ruins till suddenly, before the building his family lives in and now gets ready for the funeral, he decides to jump from a window to his death. End of the picture.
In keeping with the rest of the trilogy Rossellini does not shoot a happy ending, an image that would hint that hope is not lost but that actually victory over the enemy and over hardship is coming, as History will eventually prove. Death remains the only conclusion available among the chaos of war and its aftermath. Rossellini goes further than previously as the cause is suicide, a brutal suicide of a poor and sad child, whose reason can probably be fairly surmised but is never articulated. Edmund is tracked by the camera with an attention which is both precise and gentle to a fault, and yet gestures and a few words are the rare elements available to understand the lead character. His thoughts are never expressed by a voice-over or notes or even lines of dialogues. The boy playing Edmund Köhleris no ordinary child actor: this is not a predictably emotional performance along a no less predictable arc, with all the right signals but this is a conscious effort to capture what it feels to be caught in a human disaster, to end up as a human failure. Edmund Moeschkeis a tragic presence inside a desolate world, whose moves are a basic, blunt, though senseless, response to the pressing need of living. This child-actor has a raw authenticity and conveys a lively immediacy that point out how cinema can work with children and portray them (thankfully this is not the affected and varnished style of, say, Shirley Temple).
Again in keeping with the two other movies, a powerful sense of pessimism mixed with realism determines the viewpoint in "Germania anno zero". The Italian filmmaker puts his camera inside the chaos and attaches it to simply sketched but emotionally compelling characters so as to bear witness to their struggles in the face of a doomed fate. His depictions of an unpalatable reality slowly unveil the personal tragedy the character carries in his or her experience, which is part of History but cannot always fits with its development, and even less with the conventional narrative of most films. The outcome is to face us not only with harsh realities but also with our painful human experience (and making the film was a hard task indeed for Rossellini as his own son died on the eve of the shooting, which gives it an even more poignant edge; this uncomfortable meeting between the drama of a film and the drama of his life would occur again in 1950 in "Stromboli, terra di Dio", as he fell in love with his lead actress Ingrid Bergman, who got pregnant like the character she played). Moving from native Italy to hated Germany and from adults to kids is not only evidence of a talent looking to widen his perspective, and successfully so, but emphasizes the universal nature of his searing but always dignified vision.