Hong Kong, 1994
Directed by Wong Kar-wai
With Kaneshiro Takeshi (Cop 223), Tony Leung Chiu-wai (Cop 663), Brigitte Lin (the Blonde Woman), Faye Wong (Faye)
The first part of the movie brings us on the seedy side of Hong Kong as the camera tracks a blonde woman always wearing sunglasses and a raincoat and dealing with Indian immigrants paid to carry drugs illegally through the borders. She performs her dirty business briskly, until the group of mules she is looking after vanishes, jeopardizing her position and life. She ends up killing a few people and by chance meets in a bar a heartsick policeman whose own troubles have been recorded in parallel to her story. Cop 223, a young detective, has been left by his girlfriend and he spends a lot of time reckoning how to survive the breakup before falling in love with the dangerous blonde woman, a nice opportunity to challenge his fate.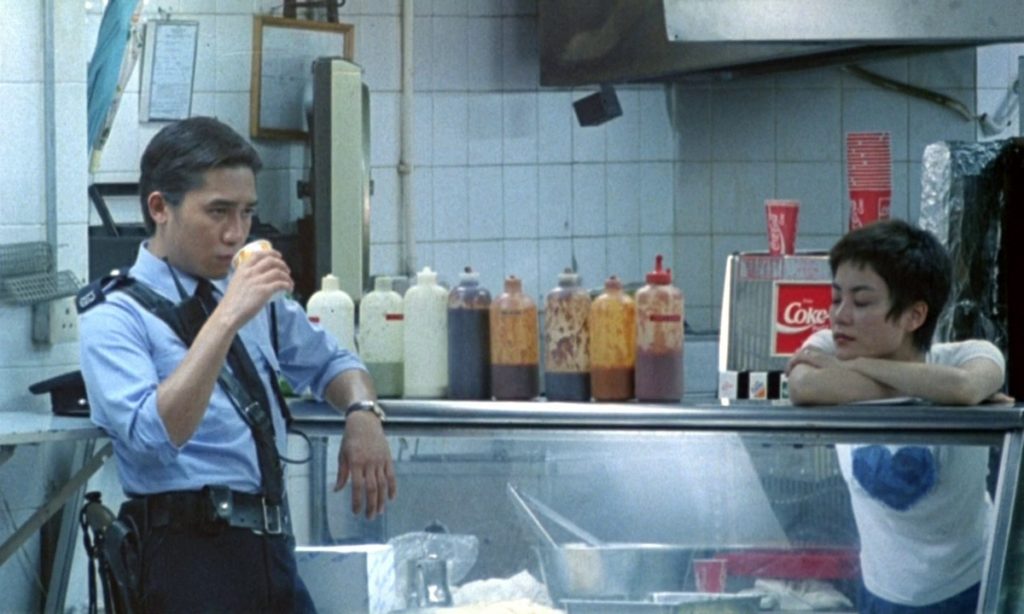 How his fate is actually going to change is left to speculation as the film abruptly alters its course and focuses on another policeman, Cop 663, who patrols a few streets of the city. He has a girlfriend at the start, but she drops him. He gets noticed by a young, dreamy, tomboyish girl working at the snack restaurant he often stops by during his beat. She is named Faye and has a crush. A letter left by Cop 663's former lover enables her to get the keys of his apartment and thus begins a funny and bizarre development as she goes every day in the cramped place to clean it, find out about the guy's life and change a few things. Cop 663 never realizes what is going on at his home until he catches her on the spot off guard. Their story keeps being a hide-and-seek game until she becomes a flight attendant (like Cop 663's previous lover) and he buys the restaurant she used to work in and they meet again to seriously start an affair.
"Chung hing sam lam – Chungking Express" is haphazard romance shot as Wong Kar-wai battled to shoot and edit as he wished "Dung che sai duk – Ashes of Time" in the same 1994 year. Both films share the same visual whirlwind-like virtuosity that leaves a world away his previous and visually tamed feature, "A fei zheng chuan – Days of Being Wild", made four years earlier. "Dung che sai duk – Ashes of Time" was a relative disappointment for the director and got mixed reviews and reception; but "Chung hing sam lam – Chungking Express" helped him to foster the interest of moviegoers at home and especially abroad.
It builds on the theme of the solitude of men and women who have just entered adulthood that was shaping the narrative of "A fei zheng chuan – Days of Being Wild", a theme that finds an echo in the lonesome fate of the typical characters of his wu xia pian, "Dung che sai duk – Ashes of Time", a theme he would keep exploring the following year with "Duo luo tian shi – Fallen Angels". The film also paints a different Hong Kong from what cinema has so far let us know, a city that is at the same time a crowd and an intimacy, a modernistic locus and a sentimental experience, a city barely explored by a local movie industry busy with churning out genre films and on the verge of a huge political transformation (the handover to mainland communist China in 1997) but getting with Wong a fresh cinematic and poetic presence.
It begins by sticking to the tropes of a hyper-violent thriller familiar to the HK audience but evades them to follow the funny antics of Cop 223; later it suddenly tackles a romance that gives way to a screwball comedy of sorts; Wong does enjoy plunging the audience into seriously disjointed narrative elements and various cinematic styles. It gives the impression of a wanton work of art ("Duo luo tian shi – Fallen Angels" would get a more coherent treatment) that may puzzle. But it is fairly amusing as the eccentricities of the forlorn cops and feisty Faye go wild (think of the collection of pineapple cans Cop 223 starts, and eventually eats, or the conversations Cop 663 entertains with rags and soft toys). They are also a subtle emphasis on their common plight – the quest for the sister soul in a teeming and unforgiving place. Pictures tend to suit the mood of the sequence with a striking flair for the unexpected but telling or seducing shot, usually taken in slanted close-up. Actors are clearly invited to play with a sassy confidence that underlines the comic aspects of the situations as well as the uncomfortable egos of their characters.
Done as a recreation, the movie seems to allow Wong to fine-tune his vision, in particular his stylistic flourishes, from jerky and oblique camera shots to the tinkering of lighting and film, and a take on characters and intrigues based on moods and wistfulness.