United States, 1979
Directed by Bob Fosse
With Roy Scheider (Joe Gideon), Ann Reiking (Kate Jagger), Leland Palmer (Audrey Paris), Erzsebet Foldi (Michelle), Jessica Lange (Angelique)
In the first scene a man walks on a tightrope in a vast, featureless, and dark space. Unfortunately he loses his balance and falls – but he lands in a big safety net, no, he does not crash on the ground, well not yet. He sticks around this uncanny world, whose settings get more furnished but also more outlandish in the next scenes, until the very end. A clever montage slowly reveals that Joe Gideon is wandering within a kind of limbo, reflecting on his life in talks with a woman he once tried to seduce, Angelique, while his body is lying on a hospital bed. Fantasy, or rather delirium, blends with reality as the film dives into a conscience between life and death, as an angina and a surgery have forced the hyperactive artist on this hospital bed. The real-life events are memories from the past few weeks of his life. They are going to make up the biggest part of the narrative, depicting vividly the routine, hectic activities, and troubled relationships that have so far shaped Gideon's many careers: choreographer, stage director, filmmaker, and ladies' man.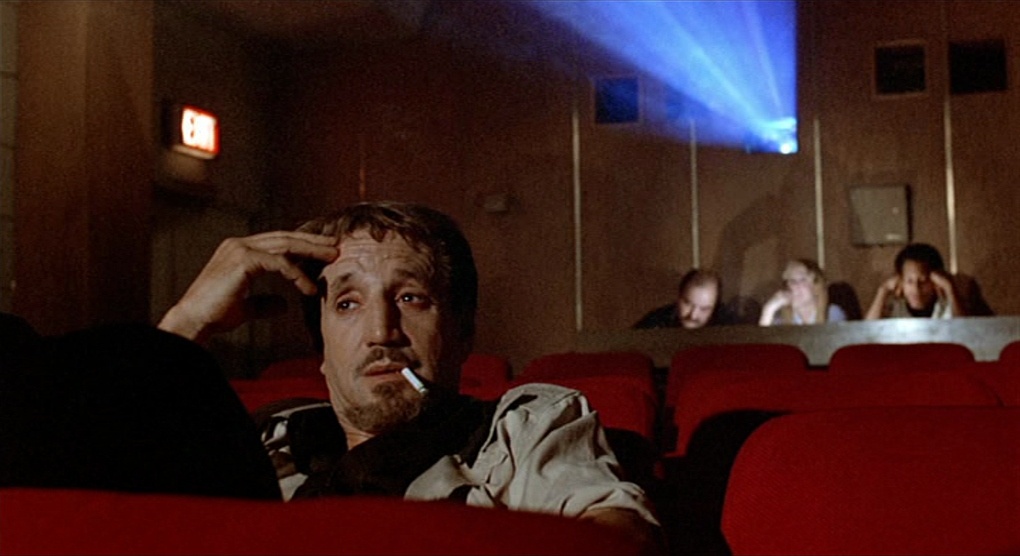 Some of these pictures could not have possibly been witnessed by Gideon; still, they make the description of his ruthless management and more broadly the harsh competition underpinning show business even more searing. While he is bedridden, the managers of the theater producing his new musical reckon how to avoid losing money, whether to hire another director, who has been a rival of Gideon, and what to do with the dancers. The naked interest actually running the show is candidly and shockingly exposed by a montage juxtaposing discussions over the show's costs and the value of the insurance covering the director with clinical close-ups on the open-heart surgery performed on Gideon at the same time (in this film montage is often brashly conceived and performed). This look at an artist's life is definitely not lacking in clear-eyed frankness.
On another front, Gideon talks about his philandering with a disarming and arch honesty with Angelique, a fact that is readily acknowledged and tolerated by the women who matter to him at this time, official lover Kate Jagger (though she sometimes fails to put a brave face on it), former wife Audrey Paris (who is also the dancer topping the bill of his next show, which looks like a vanity project for her), and Michelle, the daughter he had with Audrey. Despite his antics, Gideon's feelings for these ladies are deeply felt and clearly shared; the two women and the girl, each in their own way, fuel his passion for life and occupy his thoughts and above all his visions as he fights to stay alive.
By trade he ought to be a man of vision, of course. The film records all the hard work Gideon puts in to create a new musical, from choosing the right dancers among a crowd of candidates to organizing the rehearsals, but he has just enough time to develop fully two numbers before falling ill. If the first one is conventional but flawless, the other one stands as a bold, stunning and vibrant celebration of sexual desire, which is not a surprise coming from a man so obsessed with pleasure and energy. But even these great performances pale compared with the dramatic, extravagant and poignant numbers played in his head as he lies dying. In an amazing twist, this musical film takes on more gusto and glitz as the narrative no longer deals with real life and real business; the expected celebration of human skills and visual stunts becomes the outrageous illustration of the body and mind struggle between life and death, and this time there is no happy ending, despite the Hollywood tradition, our hopes and, by the way, historical reality.
The film is based on the real heart attack that Bob Fosse suffered while he was editing his film "Lenny" shot in 1974 and simultaneously directing in Broadway the original 1975 production of the celebrated musical "Chicago". Other elements of the film are borrowed to his life as a choreographer, stage director, filmmaker, and ladies' man. And moreover, intriguingly, photographs suggest some eerie resemblance between lead actor Roy Scheider and the director, although Scheider had not been a first choice for what is really a demanding and intimidating part that he nevertheless plays with bravery, brilliancy, and brain.
Other films were made with clear references to their directors and actors' careers and lives, including musicals. But Fosse amazes by the glaring willingness of "All That Jazz" to delve and rummage really deep into his own personal experience, down to the most intimate, heartbreaking level as it faces his own mortality. His clear-cut and frank take on sex, illness, and creativity stuns as it lays bare the most brutal facts and rawest sentiments. It is hard to term this effort self-indulgent; there is rather a self-deprecating touch, as a pleasantly ironic, playful humor runs through the entire movie. Certainly it is a self-conscious attempt to grapple with his life publicly. Whatever his reasons for this, Fosse offers an ebullient and moving portrait of a showman whose chutzpah, zest, and carefree attitudes are just exhausting themselves. The way he lets it go, in the final, long-winded, and electrifying number, simply asserts the force of an artist's imagination and zeal even when he reaches his ultimate limits. That the last song, played over the end credits, pays a loud tribute to the showmen comes as no surprise; even as an odd catharsis like here, art remains the best and brightest way to celebrate life.