United Kingdom, 1967
Directed by Joseph Losey
With Dirk Bogarde (Stephen), Jacqueline Sassard (Anna), Stanley Baker (Charlie), Michael York (William), Vivien Merchant (Rosalind), Delphine Seyrig (Francesca)
There has been an accident near a cozy country house. The man living in the house rushes to the site of the car crash and finds a young man dead and an unscathed young lady. He clearly knows them, since he calls them by their names. He helps the girl to the house and calls the police. She secretes herself in a bedroom as he talks to two detectives. Later he steps in the bedroom to watch her sleeping. He then remembers how he met her and what the story of their lives has been till now.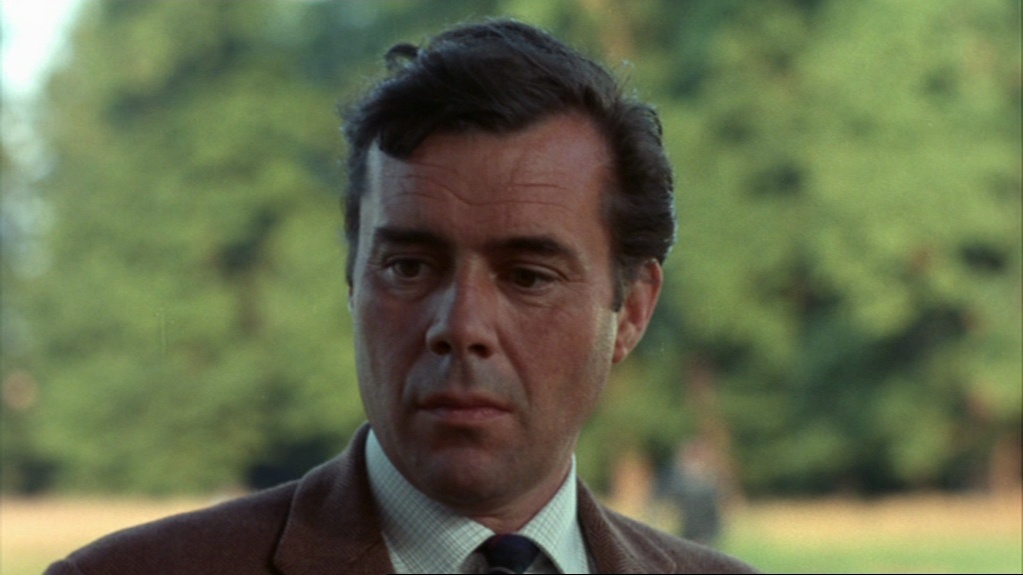 He is Stephen, a 40 year-old professor of philosophy at Oxford; married to Rosalind, he has two children, and his wife being again with child. Among the students he tutors there is William, an athletic toff who has a crush with a newcomer, who turns out to be a pupil of Stephen's; she is an Austrian-born aristocrat named Anna. Stephen watches them as they become intimate and invites them for dinner one Sunday. But he gets another guest when his friend and fellow professor Charlie drops by. The day is beautiful and ends up with too many glasses of alcohol drunk. In the following days Rosalind leaves their home to visit her parents and get ready for the birth while Stephen travels to London to meet television producers and an old friend, Francesca, though this encounter has been decided out of the blue. When he comes back home he finds Charlie and Anna together in an unambiguous situation. A few days later, Anna tells Stephen she is going to marry William and she expects him to tell Charlie the truth. Then the accident happens.
In the final part of the story, back during the fateful night something happens between Anna and Stephen. At dawn he carries her to her apartment and goes to see her wife who has given birth to their baby earlier. When he comes back at the university, Anna has decided to leave the country, shocking Charlie. And life goes on.
It is doubtful the characters could really forget the events that have unfolded in the course of this spring, in particular Stephen. He is at first glance a quiet fellow having a good life with a solid job in higher education and a happy family. But the first dialogue between him and his wife playfully hints at a slight discomfort. She says he is not too old for her and he nods, then she adds she hopes she is not too old for him either and he casts a slightly, fleetingly embarrassed look; she is shot from a slightly low angle and he is shot from a slightly high angle. The rest of the narration would follow suit.
It does not rely on grand expressions of sentiments or flamboyant psychological ideas. The director was born in the United States but his work shows he is just like a natural born Englishman with understatement running in his veins. Feelings get stronger, fiercer, but their depiction is oblique. Outbursts are rare and sudden and even then words are barely used and nothing goes too far. Characters are carefully positioned in compositions that cleverly emphasize the dubious relationships between them. Consider this Sunday afternoon when everybody is in the garden and Charlie starts a conversation with William on how to begin a novel; the succession of words and shots increasingly point to the malaise Stephen feels and the possible false attitude of some of the characters. Indeed later developments show that a dangerous game was already played unbeknownst to Stephen (truth is only disclosed one shred at a time). But even on this day, a rough remark can be enough to throw suspicion – when William, drunk as a fish, tries to leave, he is firmly invited to stay over but he balks at the idea and asks why the lecturers so keen on keeping he and Anna in the house.
Mid-life lust seems the reason. Charlie tries his luck and wins the prize: the slender and healthy body of Anna, the very object of desire Stephen spends a whole afternoon looking at in a flatboat. Jealousy would inform Stephen's behavior but there is more than sexual drive in his malaise. His London trip leads him to meet a ghost from his youth, Francesca, the daughter of the Oxford provost he works with. Remembrance shapes the episode and the narration is based on a deliberate and odd disconnection between the images of the encounter, with lips sealed and looks artfully exchanged, and the words, which are voiced over in a delayed, sometimes repeated, way. The past intrudes into the present and weighs on it, painfully. The real trouble may be that Stephen is upset by a slow realization that he made the wrong choices in his life.
Rewards of a financial nature were the true purpose of the trip, as Stephen wanted to meet the TV producers who turned Charlie into a fixture of their programming and even a success. Jealousy is again at play (there is on that Sunday the only instance of Stephen snapping at Rosalind when she simply puts that Charlie suits the media; and why not him then?) and fits in a wider discomfort with the working life. He is looking for something better than his mundane teaching success, though his wish is unclear. What he sees is not really cheerful. Academe is wittily painted as a stultifying milieu, with deeply ingrained traditions and hierarchies. The camera does not focus on the architecture and its details wantonly; these images of stone are an elegant but stark reminder that Stephen and the others are set in frame that put obligations on them, decency being the most overriding. Charlie is the most willing to test the limits, but it is doubtful that his colleagues take him seriously and he stokes Stephen's angst.
More could be analyzed on the characters, from the opacity of Anna to the underlying class conflict between William and Stephen. The screenplay brilliantly written by director Joseph Losey and playwright Harold Pinter, back together after the success of "The Servant" (1963), aims at a careful examination of a man's conscience as aging begins to raise awkward questions. It uses a domestic tragedy and slowly distills the feelings of the characters and their positions. The cast is incredibly talented and Dirk Bogarde's performance is riveting as the tortured man looking to fulfill so many desires (his wife, Anna, his past) but helpless when it comes to cope with everything he feels.