Italy, 1967
Directed by Damiano Damiani
With Gian Maria Volonté (El Chuncho Muños), Lou Castel (Bill Tate), Klaus Kinski (El Santo), Martine Beswick (Adelita), Jaime Fernández (General Elias)
This western goes to and lingers south of the border between the United States and Mexico and treads on political territory, alluding to the 1910 Mexican Revolution. The lead character, El Chuncho, is a strong supporter of pro-revolution general Elias, under whose command he used to be a soldier previously and who is now trying to bring down a military-run and conservative government. He is a bandit, attacking trains, garrisons, and towns to steal weapons to help the revolution, but expecting a handsome reward for this. He behaves as an exuberant daredevil but thinks like a naive activist.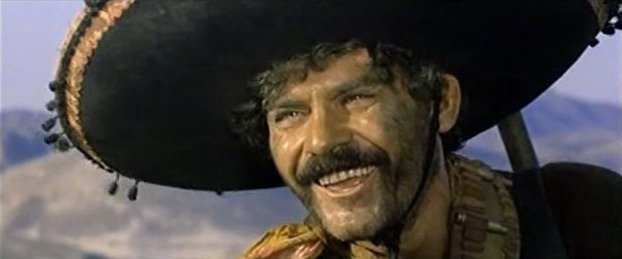 This ambiguous personality's top sidekicks are also amazing dual characters. El Santo is El Chuncho's brother and a defrocked priest believing that violence can redeem society; he preaches respect for the poor and the dead while slaughtering soldiers and wealthy people; he enjoys the outlawed life his brother offers but his zeal eventually leads him to volunteer to execute El Chuncho. Adelita is a fierce Amazon who has embraced the revolution but proves to be motivated mainly by money and love. She cuts a daunting figure and serves well the purposes of El Chuncho's gang but has no qualms in breaking loose; she helps the gang abandon their leader when it becomes clear at one point he is keener on fighting with peasants than on selling arms and later, when her dear lover, a member of the gang, is killed in action, she just gives up and leaves angrily (in a striking case of sorrow expressed only as anger). The rest of El Chuncho's gang are usually seasoned men whose instincts are close to Adelita's; they also vanish from the narrative one by one.
This narrative reflects the dual nature of El Chuncho: from the stunning opening scene centered on a train attack to a massacre inside a fort, the thuggish instincts and wily reckonings of El Chuncho are in full display in dramatic outbursts of violence and conflagrations. But when he arrives in a small town to get a rest and meet an old friend, he gets entangled in the conflict between the poor peasants and their powerful landowner. He reluctantly helps them to kill the rich, is invited to become mayor (he refuses mainly because he is illiterate), and then enthusiastically organizes the small town's defense against military reprisals – he feels like a soldier again and wants to win a revolutionary battle. That causes his gang to quit. The third section of the film brings his contradictions to a climax.
He leaves the town to chase his gang because they took with them a costly but useful machine gun; but when he catches up with them he sheepishly chooses to stick with them instead of taking back the stuff to the town. He eventually reaches the headquarters of Elias to pocket the money but the leader chastises him: the town El Chuncho abandoned was captured by the army and all the people got murdered – is El Chuncho a good revolutionary or isn't he a despicable profiteer? El Chuncho accepts to be executed (and El Santo stands ready to pull the trigger). The deeply sad, confused but dignified reaction of El Chuncho suggests how much he resents his ambiguities. Yet, as the brothers look for the best place for the execution, El Chuncho's behaviors imply he still hopes for a way out.
He does get it as a bullet kills El Santo in the nick of time. The shooter is the other lead character of the film, in fact the first to appear on-screen. He is not quite the lonesome rider that westerns (and Italian westerns) like to feature. He is as mysterious but is far more dapper and far less prone to fistfights and brazen behaviors. His thin body, pale complexion, and cold looks stand in stark contrast with the rest of the gang he joins at the end of the opening sequence. Bill Tate is a wildcard intriguing people. But if his motivations elude everybody on-screen and in the theater till the last minute, in a clever screenplay development, his opaque personality is a magnet. The most vexing and riveting part of the film is grounded on the shots and reverse shots opposing the impenetrable gaze of Tate and the wild-opened eyes of El Chuncho. The Mexican is fascinated by the gringo and this overriding feeling shapes many actions. The most brutal instance comes with the killing of one of his associates, who wanted to get rid of Tate; when another asks for an explanation, the stupefied leader just says that Tate, whom he affectionately dubbed El Niño, is his friend while the other, well, is nothing since he is dead, isn't he? If only because El Chuncho is not of an introspective and intellectual kind, it is hard to gather what this strange bond means and what fosters it. This enigma, at least, can be clearly put down to his most vital, spontaneous instincts, and is not corrupted with any second-guessing.
The most remarkable twist in this story comes from the fact El Chuncho's feelings are reciprocated. Tate does like him and, in the epilogue, tries to help him to improve himself: he shares the money he has earned with his mission (getting infiltrated among partisans of Elias to assassinate the general) and brings him to a barber and a tailor to turn him into a decent gentleman ready to go to the US. Yet El Chuncho chooses to kill Tate. The horrified young American asks why and the Mexican guffaws and answers back with the question giving the film its title: ¿Quién sabe? (to use the correct Spanish form; the dialogues blend Spanish and Italian all along) – Who knows?
Actually, the unease El Chuncho felt minutes before in his smart suit while a poor young man offered to clean his shoes and Tate jumped the queue to get their tickets in the railway station has already given away the sense that a tragic conclusion is coming. El Chuncho cannot become another rich and cynical man, proud of his class superiority and quietly abusing it. Killing Tate is getting rid of a strange obsession that was also the mask of temptation. El Chuncho would remain the brave, bumbling, and passionate outlaw. As he runs away in the final shot, jumping and yelling, rushing along two trains at rest that look like the lines leading to the vanishing point of the image, he looks like a wild animal ready for new fights and probably fresh mistakes. With this vivid picture, the film abruptly and masterfully disambiguates the hero: he is simply an untamed and unstoppable force, a tempest of a man whose destructive bend is not without sincerity and passion and stands apart from that more sophisticated but also more morally corrupt bad men he has encountered in the film.